Catalogue
Buxus sempervirens
Box, Boxwood

Height: 120 cm

Foliage: evergreen

Flowers: insignificant

Light: part shade, shade

Moisture: average water needs

Soil: average soil, fertile soil

Winter-hardiness zone: Z5

Neighbouring plants: Alchemilla, Carex, Festuca, Heuchera, Hosta, Lavandula, Miscanthus, Nepeta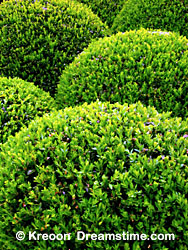 In our climatic zone boxwood usually is planted in more shaded places because it is very shade tolerant. However, if one can provide this plant with fertile and sufficiently moist soil, boxwood will grow very well in open and sunny places. Insufficient growing conditions for box is the worst one can do, because a plant becomes weakened and sensitive to surroundings as a result it might be severely damaged by frost and sun in spring. On the other hand, if boxwood has well sustained growing conditions, it will have no significant damages after winter and spring. Nevertheless, to prevent boxwood from getting sunburned in spring (especially, if it is carefully clipped and formed) it would be better to cover boxwood with protective crop fleece or some nice reed mat, or some special screens by the end of the winter or beginning of spring.
So far the use of boxwood in Latvia was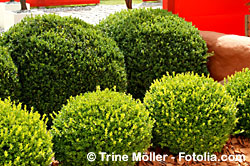 underestimated because usually it was used for greenery of cemeteries. However, the use of boxwood is more diverse than that. More and more garden owners are becoming aware of it. These plants are very easy to form because of their dense branching. One can use them as topiary on balcony, porch or by the entrances of a house. As boxwood has evergreen leaves, it will stay the same during all seasons – all through the year. Boxwood would be one of the main plants in gardens with explicit geometric forms. Boxwood is very widely used in low, clipped hedges, also for borders of planting beds. The same as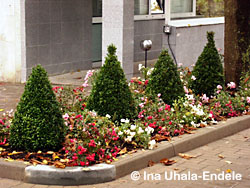 they look very nice in such hedges, boxwood is very elegant as solitier – formed alone or in groups.
One has to understand that process of maintaining a clipped form of boxwood bought or made on your own is very time consuming. Boxwood should be clipped several times per year to keep its shape. It is better to clip it in cloudy days or in evenings when the sun is not so hot anymore.